Iron on Name Tapes for Clothing
Our iron on name tapes for clothing are perfect for the start of the new school term. Get yourself 50 iron on labels for just £4.99 (plus £1.50 P&P UK). That's 50% cheaper than most places on the internet such as on Amazon or eBay. And we promise to dispatch your order within 24 hours. So you get your iron on name tapes within 48 hours. That's our Name Tapes promise!
Our customer feedback is so important to us. We've received over 54,000 reviews and 100% positive feedback for the last 12 months. A big thank you to all of our customers who have purchased their iron on name tapes and labels from us.
Iron On Labels with super sticky adhesive
That's right. We have developed our iron on labels for over 20 years to find the perfect super sticky adhesive to stay on clothes for longer once you have ironed them on. You need to make sure you follow the instructions printed on the backing sheet. We guarantee the iron on labels will perform very well and will not wash off, as long as you follow the instructions provided.
IMPORTANT: These labels are not suitable for knitted or fluffy clothes or terry towelling materials. Teflon coated clothing may not work either as it's non-stick. We would recommend looking at our sew-in labels.
Example Fonts for your iron on labels
There are so many fonts available we are confident you will find the right one for your child or loved on. See the example below showing some of the fonts and logos you can use.

The iron on labels can be printed in Pink, Red, Blue or Black text.
There are so many fonts and logos available we can't show them all here. But you can visit the iron on labels page and design your own label to see for yourself. If you don't see the logo you like, or have your own font, then let us know and we will do our best to design your own custom iron on label. Email us at info@name-tapes.com with your request. We are always happy to help.
What to write on your Iron On Name Labels?
You can have two lines of text on your name tape (18 characters per line). Most people have the persons name on the label. Some people like to add a class name or telephone number too.
On the labels we can also include any Gaelic fadas, French, Italian or Icelandic accents.
If you include a logo or image on the name tape, then the font text becomes smaller. So if you want the text to be as big as possible, then don't include a logo.
Selection of Logos for your iron on name tapes
Are are so many logos to choose from. Here is a selection of the most popular logos. Take a look at the iron on labels page and design your own label to see the full list of labels for yourself. Or you can email us and use your own logo design.
What size are the iron on labels?
The labels are approx 13mm by 45mm. They are pre-cut and have rounded corners (as shown in the image above).
Customer Reviews
We pride ourselves on our customer feedback. We aim to have your iron on name tapes delivered within 48 hours. We usually ship your order the same day for arrival through your letterbox the next day. In the last 12 months we have had 100% positive feedback. With over 54,000 reviews.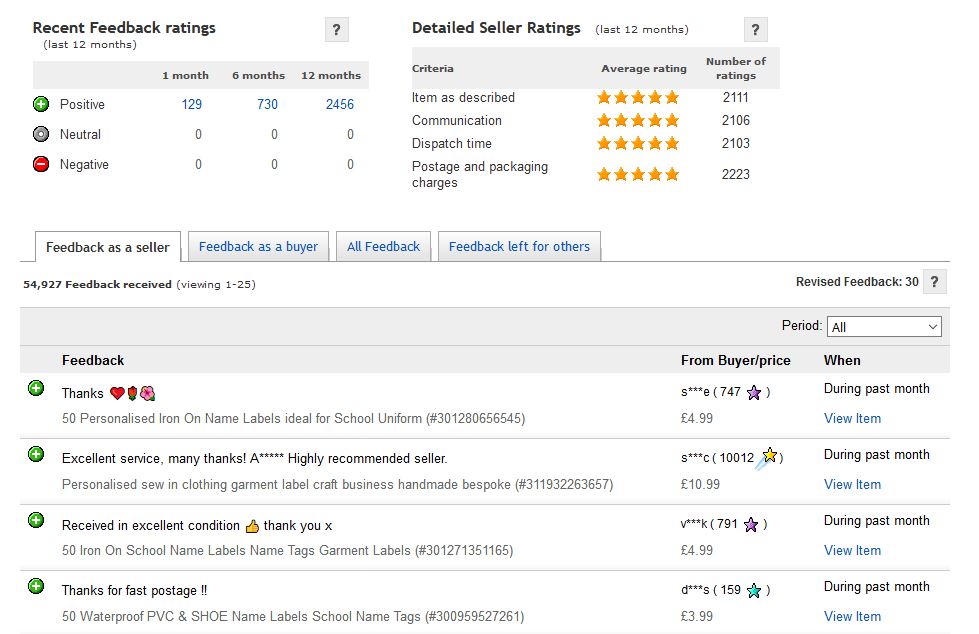 How to use our iron on name tapes for clothing
Remove the label from the backing sheet.
Place the label on the garment.
Heat the iron to the highest temperature as shown on the garment care label.
Place the iron on the label and hold for 8-14 seconds. Remember to turn off steam setting.
Allow the garment and label to cool down.
THE PICK TEST – Try to pick at the sides of the label after it has cooled. If the label is peeling easily then it means it wasn't ironed on correctly. It is most likely because there was not enough heat. Turn up the heat and try again. Make sure it's not too hot to burn the garment.
Do not wash the garment for the next 24 hours so the label and adhesive has time to set.
Where do we deliver our iron on name labels?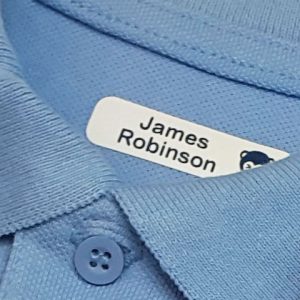 Most of our customers are based in the UK and Europe. But we do deliver our iron on name tapes worldwide. Our office is in the UK. So UK postage is only £1.50. For Europe and Worldwide deliveries there will be an additional charge.
How to order
Click here to order our iron on labels. Then follow the instructions to design your label. You will be able to preview what your iron on label will look like before purchasing.
Iron on labels perfect for school uniforms
Parents purchase our labels time and time again as they are durable and withstand many washes. As long as the label is ironed on correctly following our instructions, the label will not peel and the ink will not fade. Ideal for school shirts and polo shirts, as well as school skirts and trousers.
Iron on labels for care homes
Feel safe that your loved ones clothes will not get lost if they are living in a care home using our iron on labels. Our name tapes are durable and will withstand many washes.