Stick-on-labels for shoes and lunch boxes
Stick-on-labels are fantastic for parents as they don't want their little one to lose anything in the first place. If something is lost, and this usually happens at least once a week, it would be great to have the lost item returned to its rightful owner.
Our PVC stick on labels are great for the inside of shoes. They are waterproof so will withstand the rigorous usage by your loved one.
Not only are the stick-on-labels ideal for shoes, they can be used on many items such as:
Water bottles
Lunch boxes
Cricket bats
Tennis rackets
Hockey sticks
And many more…
You can get a set of 50 waterproof stick-on PVC labels for only £3.99 (+P&P). Order Here
When ordered we usually get them in the post for delivery within 24 hours.
Design your own stick-on-labels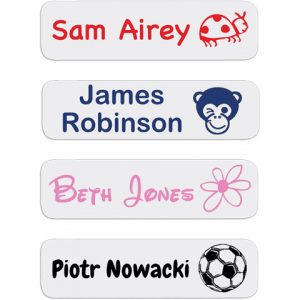 See your label design before you buy. Using the label creator tool you can select the font to use, choose a colour to use and whether you want to include a logo on the label.
There's a large selection of logos to choose from. There are logos for boys, girls, animals, sun and smiles and teddies. As you can see in the image there's a ladybird, winking monkey, flower and a football.
If you don't see a logo you like then please ask. If you have your own logo we could add that too. Send us an email to info@name-tapes.com. We are more than happy to create your perfect stick-on-labels for you or your loved one.
If you are looking for labels that you iron onto clothes. you can order a set of 50 iron on labels for just £4.99 (+P&P). Following the instructions correctly these iron-on labels will not come off in the wash.
If you are looking for sew on name labels for clothes then follow the link. These sew on labels are great for customers who are developing their own brands. Or would like a finer touch by sewing on the labels to their loved ones clothes.
Buy combination packs of stick-on labels and sew-on labels
Do you want to order some iron-on-labels for clothes and PVC stick-on-labels for shoes? Then you can order a combination pack and save yourself some money:
50 iron-on labels & 25 PVC/Shoe labels. £6.98 (+P&P). Order here
50 iron-on labels & 50 sew in & 50 PVC/Shoe labels. All for £10.99 (+P&P). Order here
Got any questions?
If you have any questions, or you would like to customise your order in any way, then get in touch by emailing info@name-tapes.com. We are more than happy to assist.