Sew on Name Labels for clothes
Our sew on name labels are perfect for customers who are developing their own brands. Recently we had a new customer wanting loop fold size tabs to be sewn into the back of the neck on a garment. Another customer reordered their sew on name labels because they were happy with the results last time.
Sew on Name Labels for clothes and crafts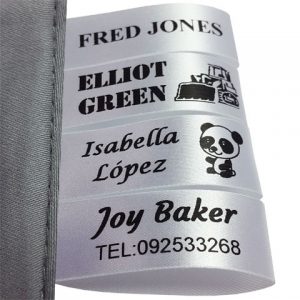 A new customer was ordering sew on name labels as they were launching a new born clothing range. And a customer wanted loop fold labels for tea towels they were making. The list of opportunities is endless.
We offer 50 sew in labels to order online today. You can choose from a large number of logos for boys, girls, teddies and animals. Some customers would like to use their own logo on the name label. If you want to use your own logo on the label, then send us an email to info@name-tapes.com. We are more than happy to put your logo on the label.
Sew on labels for the new school term
If you are a mum looking for sew on labels for the start of the new term, we can certainly help. We can usually ship the labels the same day we receive the order. Meaning you would receive the labels the very next day. Just as long as we've a little time before the post man comes to collect the daily parcels.
Sew on Labels in the UK
We deliver our sew on labels throughout the UK. We are based in Yorkshire and can usually deliver our labels to you the very next day.
We also deliver to Europe and the rest of the world. Recently we have received orders from Malta, Belgium and Canada.
Iron On Name Tapes
If you are looking for iron on name tapes for clothing then we can help. These iron name tapes are perfect for the start of a new school term or for an elderly relative that may be going into a residential home for a period of time.
Custom sew in name labels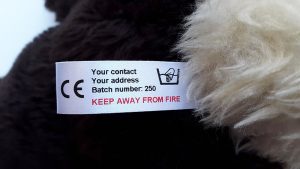 Our sew in name labels are perfect for any crafts, clothes or toys. All of our labels have been tested for toxicity EN71-3:2013. We can supply a copy of the certificate if requested.
If you require a custom CE label or custom care and content label then send us an email to info@name-tapes.com and we will be more than happy to assist.
Order Sew on Name Labels
Order your sew on name labels today and we will be confident you will love them. We thrive on our excellent 5 star feedback. And have over 20 years developing and testing the materials and methods of printing sew on labels.
As always, if you have any questions, please send us an email to info@name-tapes.com.
Waterproof stick on labels
If you are looking for waterproof stick on labels then take a look at our new range of stick on feet labels. These are great and the kids love them. They are great for labelling shoes and other school equipment.