Nametapes for clothes ready for the new school term
It's that time of year again when your little one, or not so little one anymore, has a new school uniform. And the count down begins to see how long it takes for your loved one to lose something. Is it usually within the first week? Or even as bad as the first day back at school? You need nametapes labels asap!
It's typical that children lose, or should I say, forget where they put their jumper or a cardigan. Luckily, if you remembered to iron on a nametapes label, then great! But we've all been there and without the nametape stuck on, that jumper is just lost forever. But not all is lost, since the cost of replacing the jumper is high, you remembered to order some iron on nametapes today. That's where we can help! You are at the right place.
Design your own nametapes label online
That's right, you can design your own nametapes labels online, see what they look like, then order them online too. With our cool nametapes preview, you can see the font, logo and colour before you decide to buy.
Nametapes you can iron on to clothes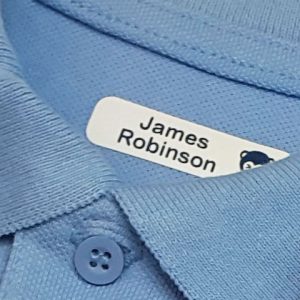 One of our most popular items is the iron on nametapes. You can quickly order a set of 50 for delivery next day.
We wrote a blog showing some of the example fonts, logos (for boys and girls) and colours you can use on your iron on nametape label. Your iron on name tapes can be personalised to your loved one.
Follow the link to design your own iron on name tapes. Only £4.99 for a set of 50 name tapes (+P&P).
Sew in nametapes
For the mother, or father, or guardian who is good with the needle and thread, order a set of 50 sew in labels.
These sew in labels are made out of soft polyester satin ribbon. Guaranteed not to itch or scratch skin.
With our online design tool, you can see what the sew in nametape will look like before you order. You can choose a logo to use and enter 2 lines of text. Follow the link to design your own sew in nametapes.
If you are looking to order a larger volume of sew in nametapes, or add your own logo, then send us an email at info@name-tapes.com. Some customers would also like to have care and content instructions added to the label, that's fine, send us an email and we'll definitely help you.
Waterproof PVC/Shoe labels
Our waterproof nametapes are perfect for shoes. They are also great to stick onto water bottles, mobile phones, lunchboxes, tennis rackets, hockey sticks or any other piece of equipment that could get wet. Or should I say get lost!
At £3.99 for a set of 50 stick on waterproof nametapes (+P&P), that's a great bargain. Plus we thrive off our customer service, by posting your nametapes for next day delivery.
Order a Combination pack of all 3 – Sew on, stick on, and PVC
Some readers will have read this article and would like a combination pack of all three types of nametapes. That's fine, we've created an option to do this. Follow the link to create your combination pack of 3 labels. In this combination pack you get a set of 50 iron on labels, 50 sew on labels, and 50 PVC/shoe stick on labels. All for just £10.99 (+P&P).
If you don't want the sew in labels, we've created a combination pack of 50 Iron on and 25 PVC/Shoe labels (£6.98 +P&P).
New Waterproof Feet Stick On Labels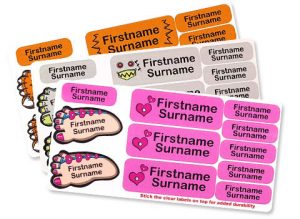 This year we launched a new set of waterproof feet stick on labels (£3.99 +P&P). The kids absolutely love them, that's both boys and girls.
They are bright and colourful. And were especially designed for us by a local creative design company. Follow the link to read the article on how we created the new waterproof feet stick on labels.
To choose the colourful feet design for your child, follow the link to create your own waterproof label.
Get in Touch
If you would like to customise your order then get in touch at info@name-tapes.com. We get emails from customers wanting lots of labels. Plus some customers are looking to add more text and/or personalise the label with their own logo. We are always here to help.
We've been working for over 20 years to perfect the label process. We can definitely help if you need something different.