New Waterproof Feet Stick On Labels
In addition to our standard selection of pvc stick on name labels, iron on name labels and sew in labels we have some lovely coloured waterproof stick on labels now available exclusively on our website. These are great for labelling shoes and other school equipment.
We wanted to come up with something a little more original and quirky than the classic style school name labels which are widely available.
With the help of Kelvin Grant at VooDude Designs we have developed a range of label designs. We love them all and hope you will too.
Designing a new stick on label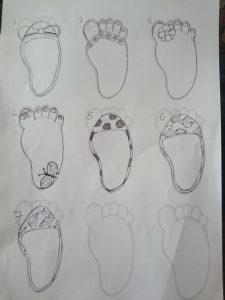 The design process started with a basic cartoon style foot outline. We gave Kelvin some ideas to work on, aiming to come up with something bright, colourful and appealing to as many kids and parents as possible. We suggested monsters, robots, aliens, butterflies, flowers and hearts to begin with. Using the base template as a starting point, Kelvin came up with some great initial designs.
We had to decide which images would work best. As the labels were to be used for shoe name labels and stick on name labels we had to make sure that each one gave us enough space to add a name that would be clearly readable and not get lost in the design. We needed to stick to images with a clear block of colour in the middle to allow for this. After much debate and a bit of tweaking we decided on 9 designs. It's hard to pick a favourite!

Shoe name labels the kids love
We have produced a set of various size stickers. Having been asked several times for small stickers for labelling pencils, pens etc. we thought these would be a good addition to our range. Each name label set includes 4 feet stickers (31mm x 15mm approx.), 6 large rectangular stickers (38mm x 13mm) and 12 small rectangular stickers (23mm x 7mm).
We loved Kelvin's feet designs so much that we decided to incorporate parts of the images on the larger stickers in the sets too. We picked out the most appropriate parts of the designs and then coordinated all of the stickers with a suitable background colour. We think they look great! Thanks to Kelvin for all his help.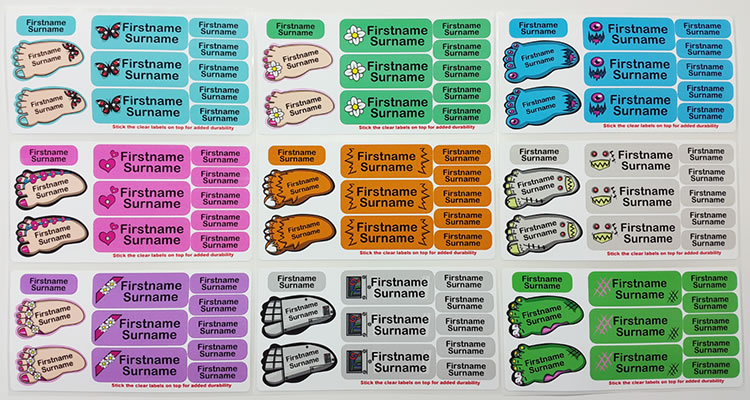 Buy stick on name labels today
You can buy these lovely set of 22 mixed feet stick on name labels from our website here. Just click on DESIGN YOUR LABEL. Choose your label style from the drop down box and then enter the name or text you would like printing. Press UPDATE THE TEXT and then the handy little preview will show you what your finished labels will look like.
We are sure you will love these labels. If you have any questions at all please do not hesitate to contact us at info@name-tapes.com. We will try to get back to you as soon as possible.
Iron on Name Tapes for Clothing
If you are looking for iron on name tapes then take a look at our iron on name tapes for clothing page. You will be able to see examples of the different fonts you can use. And it provides help on how to iron on name tapes.
Sew on Name Labels for Clothes
Alternatively if you are looking for sew on name labels for your clothes, then we can help. If you don't mind getting the needle and thread out, these are perfect and give that more personal touch to your loved ones clothing. If you don't have time, then stick to the iron on name tapes.